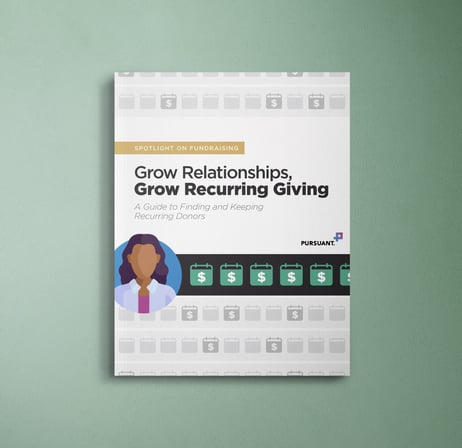 A guide to finding and keeping recurring donors.
Headlines about current economic conditions have been mixed at best. Tumultuous markets, endless uncertainty, talk of a recession, etc., mean that now is the time for nonprofits to shore up their retention and build a pipeline for future growth. Sustaining giving, or recurring gifts, are a proven strategy to achieve success in these areas and more.
The time to invest in your recurring giving program is now! Don't miss this opportunity to acquire key insights from industry experts and put their lesson to practice with our informative, step-by-step guide.
In Grow Relationships, Grow Recurring Giving, you'll learn…
Philanthropic and economic conditions driving the need for recurring giving
Practical steps to find, invite, and keep recurring donors in your portfolio
A checklist for building personalized experiences for recurring givers
Download Grow Relationships, Grow Recurring Giving today!