Webinar: Thursday, October 15 at 1pm CT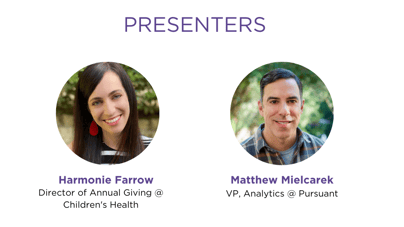 Do these challenges sound familiar? Low donor retention. A limited understanding of who your donors are and why they give. Siloed fundraising programs within your organization.
If you nodded "yes" to any of these statements, you won't want to miss our next webinar. Harmonie Farrow, Director of Annual Giving at Children's Medical Center Foundation in Dallas, will pair up with our own Matthew Mielcarek, VP of Analytics, to talk through how they are adopting a new approach to donor segmentation and stewardship. The insights shared will bring you new perspectives and reveal ways to raise more money despite limited time and resources.
Webinar: Segmentation Secrets for Reaching the Right Donors with the Right Message: Lessons from Children's Medical Center Foundation
Join us on Thursday, October 15 @ 1pm central.
This webinar will help you learn:
How to identify donors who are ready for a greater relationship with your organization
Ways to strengthen connection with constituents by moving beyond one-size-fits all messaging
How data can help you break down departmental silos and raise more money
The recording will be shared afterwards if you are unable to join. Register today and save your spot!