On-demand Webinar + Presentation Slides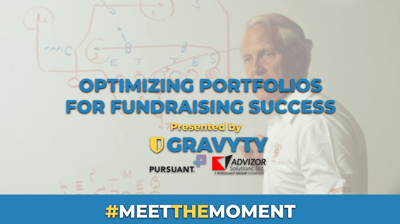 This on-demand session shows you how to strategically assign and organize portfolios and measure fundraiser performance to maximize fundraising success.
Join Gravyty's, Marijana Boone, and Pursuant Advizor's, Doug Cogswell, as they:
break apart portfolios
show you how to focus on donor segments
recognize and set strategies within those segments
establish fundraiser daily metrics that lead to giving outcomes
Join us for a discussion on Optimizing Portfolios for Fundraising Success.
These metrics aren't the same that you're used to hearing about, because they're not one-size-fits-all. See what's possible when we align metrics to specific donor types and even how to balance these metrics based on a fundraiser's own strengths.
Complete the form to access the recorded webinar.