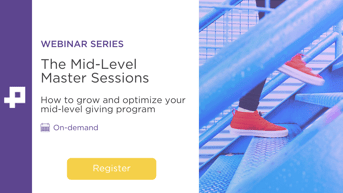 We want to help you create a thriving mid-level program with the right prospects and processes. That's why we've created a Mid-Level Master Series of six unique webinars, each designed to tackle a specific giving program issue in depth. The topics include:
How to Show Your Donors They Are Heard, Recognized, and Valued
Intentional Donor Upgrades: Being Purposeful With Your Mid-Level Donors
Actionable Data that Drives Your Mid-Level Program
Storytelling that Moves Donors to Upgrade Their Giving
Creating Stellar Donor Experiences Amidst Uncertain Times
Technology That Can Sharpen and Accelerate Your Donor Upgrade Programs
For each interactive 30 minute session, Pursuant's in-house mid-level experts will equip you with actionable tools and insights for your organization's unique needs.

Complete the form to access the entire series!