Webinar: Tuesday, October 27 at 12pm CT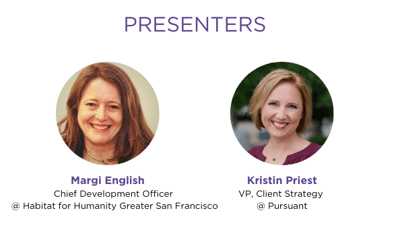 Organizations have worked hard, applying time tested "best practices" for developing thoughtful strategies for finding major gift prospects. These traditional approaches to identifying individuals with the potential to generously support mission have long been essential (and relatively effective). But for many of today's nonprofit leaders, what was fruitful in the past is not delivering enough of or the right right prospects.

Webinar: New Ways to Find Major Gift Prospects | Lessons from Habitat for Humanity


Join us on Tuesday, October 27 @ 12pm central.

Join Pursuant's Kristin Priest and Margi English from Habitat for Humanity as they share innovative ways to find major gift prospects!

This session will explore:

Why some of our 'tried and true' data points for identifying major donor prospects are no longer as effective
Maximizing the impact and information within your data (how to get the most of the information already at your fingertips!)
Building major donor strategies around your prospects... not your previous playbook
How Habitat for Humanity Greater San Francisco is successfully navigating major gift prospecting
The recording will be shared afterwards if you are unable to join. Register today and save your spot!