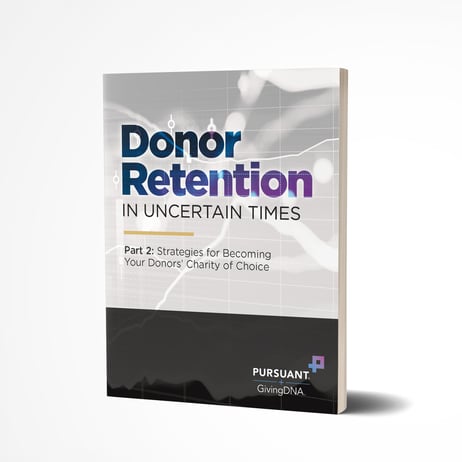 Donors historically scale back charitable giving amid economic hard times. The time to optimize your organization's fundraising efforts to drive stability and remain among your donors' top charities of choice is now.
This eBook focuses on building and maintaining great relationships with your donors. Whether they're new to your donor list or longtime sustainers, these practical strategies pooled together by Pursuant's fundraising experts can help minimize lapses and elevate trust.
With this guide, you will learn:
How to remain among your donors' top charities of choice, even as they make difficult budget choices to prepare for tough times ahead
How to ensure you're getting the best insights from your donor file
How to leverage expert consultation in combination with state-of-the-art donor intelligence software to identify how to maximize your donor coverage ratio and focus limited resources where they're most likely to make the biggest difference
Download Part 2 of Donor Retention In Uncertain Times today!