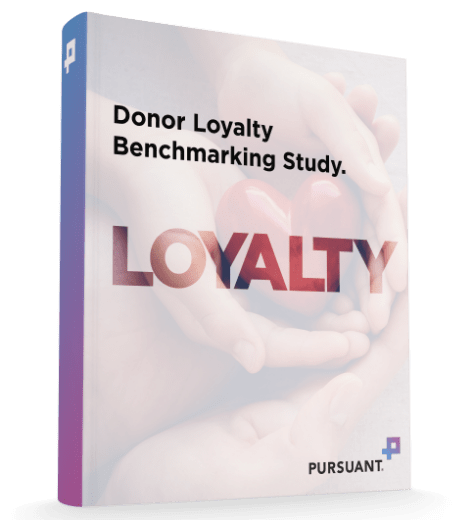 For years our industry has relied on benchmarking studies to establish trendlines for fundraising effectiveness. But there's never been a study to establish what donor loyalty means and how we measure it across sectors, channels, sources, and giving levels… until now.
Pursuant's inaugural Donor Loyalty Benchmarking Study provides a baseline and framework that your organization can use to elevate the loyalty and commitment of your donors by improving retention and increasing their lifetime value.
Insights from the study
As an agency committed to inspiring passionate people to change the world, Pursuant wanted to help our industry discover ways to increase the loyalty and passion of today's donors. In support of that purpose, we set out to evaluate industry benchmarks around two metrics everyone is familiar with but in a more holistic manner. Those two metrics are lifetime value and retention.
Ultimately, we want this study to be a resource that sparks innovation in our industry and creates new ways of thinking to increase the generosity and commitment of those donors who choose to invest in your causes.
Insights in this year's Donor Loyalty Benchmarking represent…
21 Organizations
20 Million Donors
$13 Billion in Revenue
Download the Donor Loyalty Benchmarking Study today to see all the metrics and insights.