Webinar: Thursday, April 29th @ 12pm CT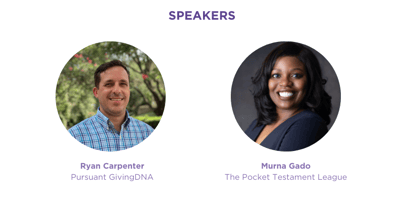 Segmenting your donors into smaller, more targeted groups is a powerful way to reach them with specific messages. As a result, nonprofits can improve the donor experience and raise more money.
But like many organizations, The Pocket Testament League experienced a disconnect between departments when it came to deciding how to best segment their donor database. Sound familiar?

In this webinar, we'll explore how The Pocket Testament league leveraged the Pursuant GivingDNA Platform to increase collaboration between Marketing and Fundraising. Among many positive outcomes, they are now communicating more effectively with their donors and surpassing their fundraising goals.

Webinar: How The Pocket Testament League is Using Segmentation to Increase Collaboration & Fundraise Smarter

Join us on Thursday, April 29th @ 12pm central.
The recording will be shared afterwards if you are unable to join. Register today and save your spot!