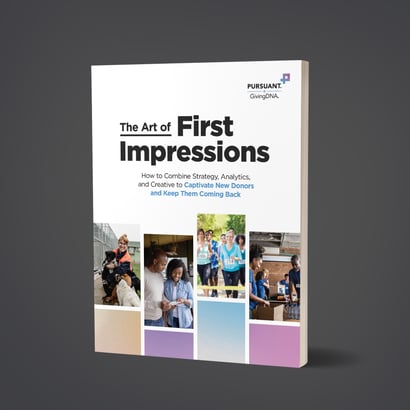 At the end of the day, donors want to positively impact a cause they feel strongly about. So, as a fundraiser, it's your job to ensure every interaction — starting with the first one — reinforces that your donors are achieving amazing things through their generosity.
Making a strong first impression with a prospective donor is essential, especially in a challenging economic landscape. Individuals are giving to fewer charities and instead focusing on the one or two that most deeply align with their values. This is when first impressions matter most — and when nonprofits should use their data to craft an experience that meets the donor's case for support.
This eBook focuses on a three-pronged approach to creating a phenomenal first impression with donors. By aligning data, strategy, and creative storytelling, your organization can lay the foundation for increased support today and greater donor loyalty tomorrow.
In this guide, you'll learn:
How to use data to accelerate donor acquisition

The six principles that should guide your acquisition strategy

Proven tactics that inspire action with your creative
Download the guide today!