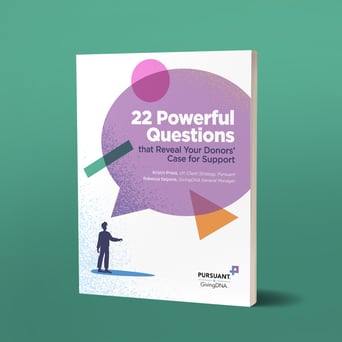 Understanding the factors that motivate your donors is key to maintaining giving during difficult economic times. By answering the question of why your donors choose to give to your organization, you will be able to unlock the secret that can make your organization an essential expense in their eyes and inspire lifelong support.
This eBook focuses on 22 questions you can ask your donors to gauge what their reasons are for giving to charitable causes. Whether they are new to your donor list or are longtime supporters, these poignant questions identified by Pursuant's fundraising experts can help you to home in on their passions and ensure they align with your organization's mission.
In this guide, you will learn:
How to leverage data to become your donor's "charity of choice" and determine what motivates them to give
How to ask your donors the right questions to better uncover THEIR case for support
How to identify the questions to ask at different contact points with donors to ensure long-term giving and even referrals
Download the guide today!